The 22nd Regular Diet Meeting
On February 7, 2013, the 22nd Regular Diet Meeting was held in a meeting room B 104, in the House of Councilors Members' building.  There were 60 attendees.  Thanks to the more convenient scheduling at 2 pm, many of the attendees could come from far away, and we saw a number of newcomers, by twos and threes.
 
Unlike the usual teach-in style on a particular theme or agenda, this round was intended to gather and exchange views extensively on past SVCF achievements and future objectives. With this in mind, we had laid out the tables in a circle or round-table manner and each seat displayed a nametag of the participant.  All attendants were encouraged to opine freely without intervention of the moderator.  Diet members and media people were not invited this time.
 
After a two-year struggle for viable modes of operation since the establishment of SVCF and during the current drastic process in regime change, various views and opinions were exchanged and appealed for 3 hours on how we could retain and pursue our unique original objective.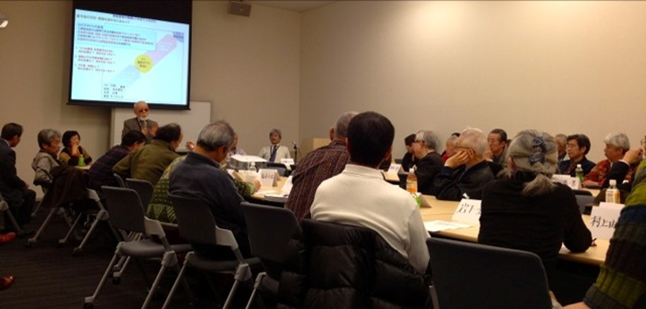 Visiting TEPCO with a copy of the Fukushima Number 2 Nuclear Power Plant Inspection Report
By Kunio Ito, Professor Emeritus, Professor of Engineering, Tokyo University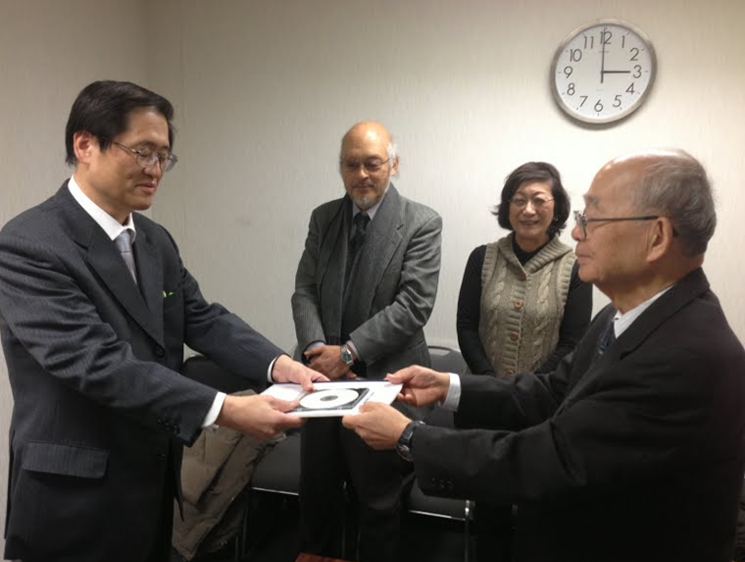 A brief summary of the inspection report on the Fukushima Number 2 Nuclear Power Plant (this inspection occurred on January 16) can be found in the previous 31st issue of the SVCF bulletin. The report was completed on January 30 after a wrap-up meeting by the participated members of the inspection committee.
On February 8th, 5 representatives of the SVCF visited the head office of Tokyo Electric Power Company and, along with expressing thanks to Mr. Takase, Atomic Energy/Site Location Chief for receiving us, we presented him with a hard copy and an electronic copy of the inspection report.
On behalf of the visiting group, I stated "I was strongly impressed by the work that TEPCO and its contracted firms had done together after the devastating tsunami on March 11 hit the Number 2 Nuclear Power Plant," and asked the Plant Superintendent Masuda to receive and read our inspection report as well.
Releasing the Inspection Report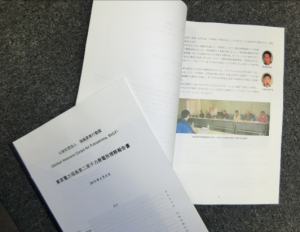 Expressed at the meeting:
1. We would like to make this inspection report available freely on the internet, since we believe one of our vital missions is to report to the world the up-to-date conditions of the stricken Fukushima Daiichi nuclear power plants, with reporting that is entirely independent of the standpoint of the various media.
2. I think there will be an advantage for TEPCO to have this report released to the public, because it will tell people what is going on at the less known Number 2 Nuclear Power Plant.
We told Mr. Takase that prior to the release we would like to receive his feedback on the Q&A section that was exchanged between our inspection team and Mr. Masuda, and he replied that he would work on it. However, he thinks it will take some time before this inspection report will be made available on the SVCF website, so patience is called for.
Our Straightforward Request Gets Put on the Back Burner
The atmosphere at this meeting was very calm and friendly, and a variety of topics were raised by the participants. I would like to state that the opinions section reflects merely my own personal views.
In regards to the "looking at it from another side" comment, one of our participants asked, "don't you think that society would have more confidence in the goings-on if the monitoring of the Number 1 Nuclear Power Plant premises were done by a group that is not connected with TEPCO?"  To this, Mr. Takase responded, "that's rather straightforward" and this issue was better placed on the back burner. 
Additionally, someone suggested, "what if we obtained a license in the construction industry to help remove the rubble from the Number 2 Nuclear Power Plant premises" to which the pre-defined response was "that would require a contractual and entrusted relation, as well as the clearance for necessary qualification and capability in our registration list, so that may be difficult to go with."
 "False Report" to the National Diet of Japan Fukushima Nuclear Accident Independent Investigation Commission (NAIIC)
 
During our talk regarding the disclosure to the public on the internal conditions of Fukushima NPP, we brought up a newspaper article released on February 7 in the national daily Asahi Shimbun: "False Report to the National Diet of Japan Fukushima Nuclear Accident Independent Investigation Commission (NAIIC)". TEPCO's excuse to us was the same as stated officially in an explanation by their Public Relations Department: "the mistake had not been intentional".
 
Furthermore, it was revealed, in view of previous experiences, that the place in question may radiate over 9 millisievert per hour even to persons just passing by. Therefore, if TEPCO workers guided and accompanied an investigation team, these would be severely affected relative to the annual dose allowance.
 
At this point I again brought up the problems with the dose issue concerning workers at work at the accident site, an issue that may be used to promote our interests.  In other words, as a labor-intensive method actually dilutes the individual dose of radiation, positive participation of the SVCF members could be of strategic significance in the clean-up project.  This reconfirms our belief, role, and objective once again.
In response to our frequently repeated requests to hold and keep a TEPCO-SVCF meeting periodically, Mr. Takase, Atomic Energy/Site Location Chief agreed to accept our offer on condition that even simple and casual visits to TEPCO are notified in advance and that a preliminary set of questions is presented before the visit.
 
Continue pitching straight balls to get strikeout
 
For my comment "I am getting ever more convinced of the urgency of our observing Fukushima NPP No.1 more closely, in the keen manner of our observation of the No.2", his reply was "Your observation would be allowed when our conditions are ready". My reply was "Repeated query of WHEN would be one of the major issues in our continued regular meetings" and then Mr. Takase answered adeptly "Your dynamic pitching of fast balls might make us strikeout."
 
In a related move, I asked if he could support us in lodging our request with the Nuclear Reform Monitoring Committee (NRMC), to advise TEPCO to grant SVCF the right to observe Fukushima No.1 NPP. He advised us to forward our application to the said Committee directly.
 
SVCF members, let's all continue to pitch fast balls to get them to strike out. When we get 3 strikeouts, we'll get the CHANGE!
Our Monitoring Work in Kawauchi-mura, Fukushima
On Wednesday, February 6, 2013, four of our SVCF members (Ito, Shinoda, Iemori, and Shiotani) visited Shimo Kawauchi-shi ward as part of our support service for the repatriation of Kawauchi villagers. They monitored the radiation levels of residential buildings, indoors and outdoors, in this area.
Although it was our first attempt to conduct monitoring work under snowy conditions, we were able to complete our task successfully on schedule along with our safe round-trip drive between Koriyama and Kawauchi-mura by rental car.
We assume and believe that the level of radiation in and outside residential houses as measured under snow-packed conditions will be valuable data, for comparison with readings to be taken later, when the accumulated snow has melted.
After the monitoring of residential buildings, we moved to a couple of hot-spots we had detected during our previous visits, and then we compared, using with calibrated instruments, the deviance against an ALOKA high-precision scintillator with a newly developed dosimeter by Kansai Electronics.
A BS-TBS news crew accompanied us and covered our monitoring activities. (by Shiotani)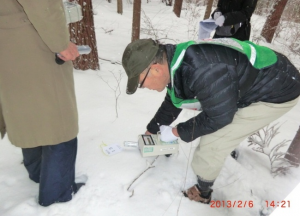 We Have Our Own Banner Now!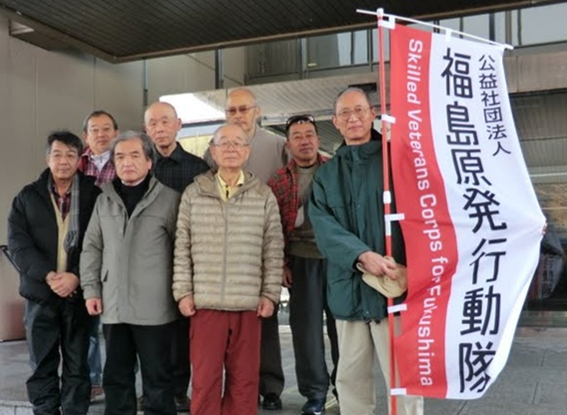 SVCF proudly announce that we have made our own banner (also called Momotaro banner).
Each of our members holds a considerable feeling for making this banner.
There are many expressions using the word banner (nobori-hata, hata) in Japanese to symbolize our strong will to "take a stand", "rally together for one aim" or "assume a leadership role".
In the occasion of visiting TEPCO Fukushima No.2 Nuclear Power Plant we already started to use our new banner and we ran it up in front of their main office building.
The banner is kept with us whenever we collect signatures for our petition drive.
We are also planning to have one of our banners put up at the monitoring site in Kawauchi-mura.
Furthermore, we would like to utilize our banner to support our future development. We can arrange to rent out this banner to anyone who takes part in SVCF activities. Please feel free to contact us at our office. (By Iemori)

BS-TBS is gathering information about SVCF

"NEWS 21 Saturday Scope", a news show of the BS-TBS TV station is gathering information about SVCF since late January.
This coverage is for a Special Program, "Living in This Country" that is scheduled to be broadcast on Saturday, February 16.
Commencing with an interview with Director Yamada, the program goes on to the monitoring work in Kawauchimura, an interview with Mr. Igari, Kawauchimura village mayor, and our public petition campaign on the street, etc., all recorded on camera
The program is to be aired from 9:00 to 10:00 p.m. on Saturday, February 16.
A second petition collecting campaign has begun
As already announced in the last issue of our bulletin, SVCF has started the second signature collecting campaign on a petition toward the legislation of the national project aiming at the cleanup of the Fukushima Daiichi Nuclear Power Plant accident.
In the last issue of the SVCF bulletin, we reported that those 3000 signatures collected in the first campaign will be submitted to the Cabinet Office and relevant ministries or agencies early next month through our supporting members in both houses of the Diet. However, it was found that as a rule, a petition with same effects may not be presented again by the same petitioner within the same Diet session.
So, we are going to submit those petitions combined in the first and second rounds altogether during current Diet session.
Those petitions are to be submitted through the members of both houses of the Diet.
We are ready to provide flags, bibs, and SVCF hand-outs in our office.
Please let our office know of your needs in this respect