We set out on a tour to the TEPCO Fukushima No. 2 Nuclear Power Plant
On January 16 Wednesday, 2013, a group of 8 SVCF regular members visited the TEPCO Fukushima No. 2 Nuclear Power Plant.  Below is a note summarized by the leader Dr. Kunio Itoh.
We visited the F2: Kunio Itoh, Professor Emeritus of Tokyo University, Ph D. in engineering.
We set out on a tour to the TEPCO Fukushima No. 2 Nuclear Power Plant on January 16 Wednesday, 2013.  This tour was approved by TEPCO in response to our repeated requests to inspect the stricken Fukushima No. 1 Nuclear Power Plant.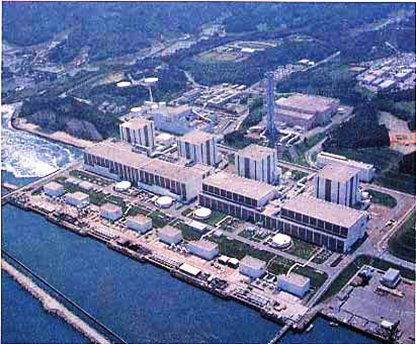 8 members were selected mainly from the TEPCO action program committee (Team Gu-ko-zan), the Watcher team, and others.  This was planned and provided a part of the SVCF systematic training program.  They stayed in Iwaki city the day before, arrived at the facility 10 minutes late to a firm schedule, and were welcomed by 30 TEPCO staffers including 12 executive officers.
At the onset in a meeting room, we were greeted by Mr. Naohiro Masuda, Superintendent of the Fukushima No. 2 Nuclear Power Plant, and got a rundown on the actual situation as of March 12, 2011 and the ongoing remedies.  Then I made a return speech as follows.
Having heard of a story of initial response by Mr. Masuda, we sincerely appreciate your brave efforts and dedication.  Whereas our original objective is to visit the Fukushima No. 1 Nuclear Power Plant, the reason why we visited here relies on our approach to seek and hear direct and candid views by those who have worked in the actual field and might feel differently from TEPCO staffers in the head office.
After a detailed briefing based on a distributed document by the Vice Superintendent Mr. Imaizumi on damages and the successive recovery for the Fukushima No. 2 Nuclear Power Plant, we were guided to the field in the following order.  We rode a bus outdoors and trekked on foot in the buildings.
1. Training center: site simulator for operational training against earthquakes
2. South track to the No. 1 reactor building, outer air-supply louvers, coast levees against a 15.4-meter tidal wave, Hx/B emergency power cables
3. North side of the No. 1 sea water heat exchanger building, P/C power panel, 1D-2 room, RHRS pump, RHRC pump, EECW pump
4. No. 3 reactor building, proceeding to the 6th floor operations, the 2nd floor tunnel room, TIP and power unit rooms, MSIV, PLR pump, finally to the pedestal just beneath the reactor.
5. No. 3 turbine building and the 2nd basement floor with HSCR condensed water discharging pump and MUWC pump
6. Radiation monitoring post No. 7
7. Meeting room No. 121 with a TV conference system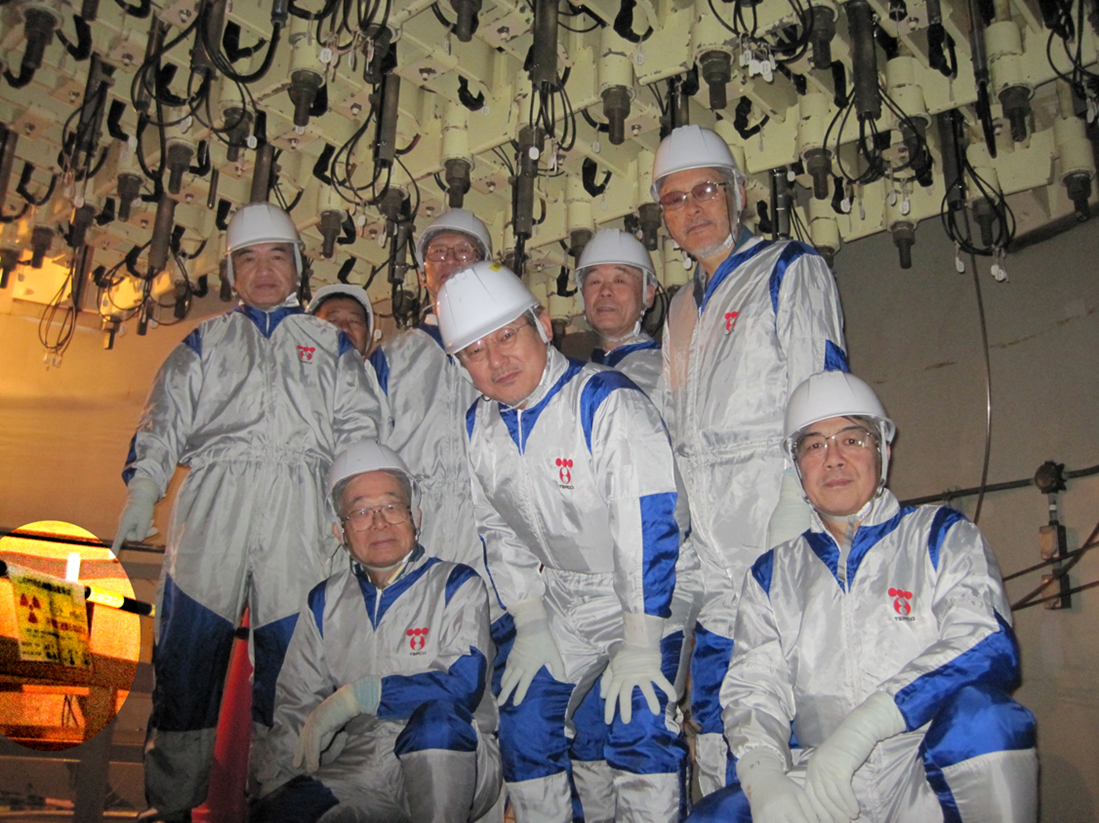 While we moved by bus, we got an ongoing commentary along a predefined course.  The course included many of our requested spots.
After our return to the main office building, superintendent Masuda replied verbally to our preliminary questions and then we kept a question-and-answer session.
For instance, "What laws apply to the prevention of radiation in a recovering process of the Fukushima No. 2 Nuclear Power Plant?  Mr. Masuda replied "Regarding the radioactively controlled area, the Ordinance on Prevention of Ionizing Radiation Hazards applies.  For forests and bushes in the premises, we conform to the work in a particular dose condition under the Rules and Regulations on Decontamination of Radioactive Materials."
To another question on "What do you think of our participation as seniors in an actual work?", "We hardly see your offer a mixed blessing but we don't need you at present"
We took a ceremonial photo in front of the main office building and had a send-off ceremony held by Superintendent Masuda and his men at 13:30 p.m.
Radioactive monitoring mission in Kawauchi Mura, Futaba county, Fukushima prefecture
4 SVCF regular members performed a radioactive monitoring task in Kawauchi Mura in late 2012.  Below is a report by one of the enlisted members, Mr. Kiichiro Murooka.
On December 19 – 20, 2012, SVCF dispatched a small group to do extensive monitoring work in Kawauchi Mura, Futaba county, Fukushima prefecture.  To meet a request of the local owner, Dr. Naohiro Shiotani, the group leader, Ikuo Itoh, Katsuyoshi Itoh, and Kiichiro Murooka measured and collected data at over 40 points in a large Japanese apartment building, which had been decontaminated in advance by the municipal government.
In the results, a radiation level of approximately 0.1µSv per hour was detected on the surfaces and in the air at 1 meter above horizontal surfaces.  This is nearly equal to the dose measured generally in Tokyo metropolis and not so harmful to normal life amid the environment.  Please refer details to an official report issued by Dr. Shiotani.
Nevertheless, rice fields, by-paths, farm roads, rain drains, side ditches, and other artificial works near the house had not been decontaminated at all.  A point just beneath a dike showed over 7.0µSv per hour.  The edge between a farm road and rice fields gave readings ranging from over 1.0 to 3.0µSv per hour.
Next day, December 20, Iemori and Murooka drove a rental car in a wider area to do preliminary inspections and visited temporary contaminated waste-collection points and another Japanese house to be officially decontaminated.
Radiations measured there, 0.3 – 0.4 µSv per hour, were not as high as we had projected and almost similar to those monitored in the Tokatsu area of Chiba prefecture.  We did not find any hot-spot over 3.0µSv per hour.  In consideration of our collected data, we may say the contamination in Kawauchi Mura is thinner and more widespread.
During our mission, we had no injury nor accident and finished assigned work successfully at about 15:00 p.m.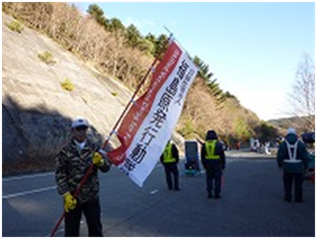 Thank You for Assisting with the Petition – Please Help Us With the 2nd Round of Petition Signing
With the assistance of our task force members nationwide as well as our supporting members, we have been able to gather approximately 3,000 signatures for the Skilled Veterans of Fukushima petition.
Through one of the Diet members that supports our efforts, these signatures will be submitted to the Cabinet Office as well as relevant ministries.
We would like to gain even more support and understanding for our organization, so we are thinking about holding a second round of petition signing. The deadline for the 2nd round is March 15th.
The petition form will be uploaded to the Skilled Veterans of Fukushima website, so please download it from there, and continue gathering signatures.  The purpose of this project is not only to gather signatures, but rather, to spread the word about our cause and what we do, and to gain the approval of the public.
We would like to gather even more signatures from the public, so I ask for everybody's continued hard work in making this happen. * If you are willing to help out with soliciting signatures on the streets, and need brochures or flyers, please come to our office.
Additionally, please let us know if you are in need of banners or nametags, as we have a limited supply of both.
Preferential Tax Treatment for Individuals and Corporate Organizations who Have Donated to SVCF
Preferential tax treatment is available for individuals and corporate organizations who donated money to the Skilled Veterans Corps for Fukushima after April 1st of last year. We will issue a receipt to those who require it for income tax return purposes. Additionally, we will send the tax exemption form along with it. If you require these forms, please contact us at:
Telephone: 03 – 5980 – 8535, please ask for Sasaki  E-mail: svcf-admin@svcf.jp
Also, this treatment may be applicable to regional taxes (for instance, the Tokyo Individual Inhabitants Tax), so please check with your local government office.
Monthly Report of the Watcher Team (Summary)   Dec., 2012
(A: Summary of TEPCO Home Page article B. Comments by Watcher Team)
1. Spent Fuel Pools
A. (TEPCO):
The temperatures of water in the spent fuel pools of Unit 1-4 are 12-22 degrees Celsius.
Unit 4: Covering up the reactor building and installation of facilities to handle the spent fuel assemblies are in progress.
Unit 3: Removal of the beam dropped accidentally in the pool is completed.  The gantries are under construction.
Inspection of the inside of the common spent fuel pool is started.
56 casks including 11 dry casks are being fabricated.
B. (Watcher Team):
All the temperatures are stable.
The fuel removal to be started in the middle of fiscal year 2013 is being prepared at a high pace.
It should be made sure that the covering, the handling faculties and the gantries are  properly designed and installed.
Cooling of the reactors
A. (TEPCO):
The temperatures decreased to a range between 23-38 degrees Celsius near the bottoms of the reactors and the gas filled portions of the primary containment vessels.
B. (Watcher Team):
Cooling of the reactors
Repeated breakdown of the thermometers leads to frequent but unscheduled work to replace them.
2. Treatment of contaminated water
A. (TEPCO):
To prepare for leakage of contaminated water from the tanks earthen dikes around the tanks are under construction.
Capacity of the existing tanks; 278 kilo cubic meters
Volume still available; 38 kilo cubic meters
Total volume of thanks to be built; 300 kilo cubic meters
Two pilot wells are dug to pump out underground water.  Cs137 in a sample of the pumped out water is below the detection limit.  The hot test-run of the Advanced Liquid Processing System (ALPS) is being prepared.  The container to store the highly radioactive wastes from the ALPS are being tested.
B. (Watcher Team):
The tanks may leak because of seaming with bolts and nuts.
The total volume of existing and planned underground tanks is 58 kilo cubic meters.
Safety of the tanks should be watched.
Leakage from the tanks should be watched.
The effects of bypassing underground water with pumping it out should be critically examined.
The hot test-run of the ALPS, the test of the containers to store the highly radioactive wastes from it and getting approved by the Nuclear Regulatory Agency seem take more time than expected.
3. Prevention of Marine Pollution
A. (TEPCO)
Driving into the ground walls assembled from steel pipes is scheduled from March, 2013 to March, 2014.
The flow of underground water would be severely disturbed by the walls driven in and drawing it from the wells.
4. Rubble and Cut Trees
A. (TEPCO):
To reduce the dose of radiation along the boundaries of the premises, three highly contaminated rubble and cut trees are relocated to the center of the premises.
Makeshift radiation shields such as sandbags are used to contain the radiation from the piled up rubble and cut trees.
Sludge from the AREVA Cs-decontaminator unit
How to sample the sludge is being searched and physical and chemical properties of the sludge are being investigated.
How to store and to dispose the highly radioactive sludge is another demanding problem.